---
Almost all broadband Internet providers for the home when setting up the Internet provide their own router. But there are several reasons to buy a newer and more powerful model.
Your router could be in the warehouse for a long time or the providers intend to purchase older equipment, because it is cheaper. This means that it may not have the latest version of the software, or it does not support the newest standards of wireless networks, such as 802.11ac, which can give a higher data rate and wider reception range, due to directional wave transmission, which means faster download files and view pages.
Most new laptops, tablets and smartphones now support 802.11ac, so if you're still using a wifi router five years ago, you're missing out on a very large opportunity to speed up your connection to the network.
You may also be interested in other recent advances in the field of routers and routers. Most wifi routers come with powerful software that makes it much easier to manage your home network. For example, you can create parental control rules or simply perform network maintenance activities. They also come with USB ports for use as NAS data storage, and allow you to give access to the printer to every device in your home.
If you are thinking about upgrading the router, this article assembles the best Wifi routers for the home of 2017 . We will limit our list to ten points. You can already buy each of these models.
AVM Fritz! Box 3490
Speed: ADSL / VDSL, 1300 Mbit / s 802.11ac, 450 Mbit / s 802.11n
Features :
4 LAN ports of Gigabit Ethernet
1 WAN Gigabit Ethernet port
2 USB 3.0 ports
Router Fritz! Box 3490 from German company ABM is known for its power, reliability and excellent software for setting up your network and connecting to the Internet.
The 3490 supports work with cordless telephones and fixed lines. Unlike previous releases, this one is even more accessible and has even more performance and even more useful features.
The router has a built-in VDSL modem, so the router works with both Ethernet cable and DSL protocol. Also supports the wireless protocol 802.11ac, with a speed of up to 1300 Mbps. With the help of USB ports, it is possible to make an excellent storage device from the router with access to it from any device in the local network and control over the NAS.
Asus RT-AC87U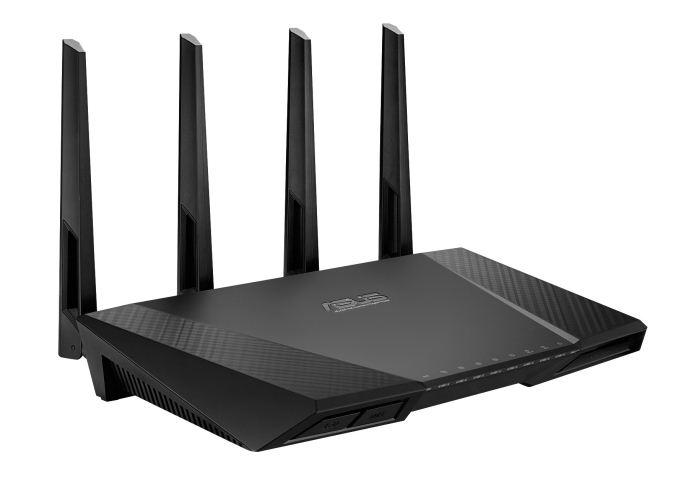 Speed : 1733 Mbit / s 802.11ac, 600 Mbit / s 802.11n
Ports : 4 x Gigabit Ethernet LAN, 1 x Gigabit Ethernet WAN port, 1 x USB 3.0 and 1 x USB 2.0 port.
The second router in the list is the best wifi routers. Although it is not the most affordable router on the market, it is one of the best, because it offers a 4×4 implementation of the 802.11ac protocol, which provides the maximum speed of wireless connection, with the potential of record performance.
In the tests, he was one of the best wifi routers in speed. It supports speeds up to 600 Mbit / s over the 802.11c protocol when operating at a frequency of 5.0 GHz. Of course, it still depends on your client adapter.
But what makes the RT-AC87U really special is the software. It is easy to use, and it has enough functions for both beginners and professionals with varying degrees of network knowledge. Among the numerous functions, we can note the QoS (quality of service) system, parental control, which is essentially a trivial next to the download manager and backup to the cloud. In addition, which is important for Linux, this router is compatible with the DD-wrt firmware.
Linksys XAC1900
Ports: 4 x Gigabit Ethernet LAN ports, 1 x Gigabit Ethernet WAN port, 1 x USB 3.0, 1 x USB 2.0 port
Linksys XAC1900, perhaps, is the simplest software and configuration process from all considered routers. But still there are many interesting functions. It is possible to manage the router remotely, so that you can connect to your home network from anywhere in the world.
The XAC1900 comes with a DSL modem, built-in power supply. Performance Wifi, as in other considered routers – at altitude. It is possible to work in two bands – 4.2 and 5.0 GHz with a speed of 1300 Mbit / s 802.11ac and other, older standards: 802.11n / G / B / a. The ports, as usual, have four Ethernet ports for the local network and one WAN port.
TP-Link Archer D9
Speed : 1300 Mbit / s 802.11ac, 600 Mbit / s 802.11n
Ports: 4 x Gigabit Ethernet LAN, 1 x Gigabit Ethernet WAN port, 1 x USB 3.0 port
Features: DD-WRT support
The best TP-Link routers are the most affordable for the general population. They provide an easy way to upgrade and a good wifi speed at an adequate price. The Archer D9, unfortunately, is not as accessible as its predecessors, but here in addition to the ultra-fast Wifi for 802.11ac technology, several additional features are supported that make this model one of the flagships of TP-Link.
Archer B9 comes with an integrated ADSL modem, which means that you can connect it directly to the telephone line, replacing any hardware supplied by your ISP. There is also a USB port on the back panel for NAS storage organization or printer connection.
It supports wireless communication 3х3 802.11ac with a speed of up to 1300 Mbit / s and 600 Mbit / s for 802.11n. He showed himself perfectly in the tests, especially at great distances. This will be the best router for the house or villa. The software could be better, but there are enough functions and support for DD-WRT. In general, this is a router that works just well and stably.
Buffalo AirStation Extreme AC1900
Speed: 1300 Mbit / s 802.11ac, 600 Mbit / s 802.11n
Ports : 4 x Gigabit Ethernet LAN, 1 x Gigabit Ethernet WAN port, 1 x USB 3.0, 1 x USB 2.0 port
Features: DD-wrt support
Buffalo AirStation with three antennas was the best wifi router a few years ago. It provides Wifi speed over 802.11ac protocol, and there is also support for TurboQAM. Both frequencies are supported with the ability to work simultaneously and over the 2.4 GHz and 5.0 GHz channels. There are ports USB 2.0 and 3.0, and also four standard ports for the organization of a local network and one WAN.
The software allows you to configure web filtering and parental controls, use data from Symantec antivirus experts and QoS.
Trendnet TEW-818DRU
Speed: 867 Mbit / s 802.11ac, 300 Mbit / s 802.11n
Ports: 4 x Gigabit Ethernet LAN, 1 x Gigabit Ethernet WAN port, 1 x USB 3.0, 1 x USB 2.0 ports
Features: dd-wrt support
The best Wi-Fi router TEW-818DRU in the form of a book, offers excellent WiFi performance. Of course, a bit lower than in the other 867 Mbit / s 802.11ac and 300 Mbit / s 802.11n. There is a usual set of Ethernet ports and USB 2.0 and 3.0 ports and a button for turning off the power.
It is very easy to configure and install and has several additional features. Among them, QoS, dynamic DNS configuration. Another advantage is that if you do not like Trendnet software, you can install an open source firmware based on Linux – dd-wrt.
Belkin AC1200DB Wi-Fi Dual-Band AC + Gigabit
Speed : 867 Mbit / s 802.11ac, 300 Mbit / s 802.11n
Ports: 4 x Gigabit Ethernet LAN, 1 x Gigabit Ethernet WAN port, 2 x USB 3.0 ports
If you are scared away by the high prices of the best wifi routers with 802.11ac support, the AC1200DB is a more affordable router from Belkin, maybe that's what you need. It supports wireless communication 2×2 MIMO 802.11ac with a speed of 867 Mb / s, at the moment most adapters in laptops and smartphones support this speed.
In all other respects this is an excellent router, it well supports the old standards for operating at 2.4 and 5.0 802.11n / g / b / a. There is also a pair of USB ports on the rear panel for data storage and printer sharing. If you do not pursue the fastest networks, you are unlikely to be disappointed. This is the best wi-fi router for those who want to get maximum performance for little money.
Netgear R7500 Nighthawk X4
Speed: 1733 Mbit / s 802.11ac, 600 Mbit / s 802.11n
Ports: 4 x Gigabit Ethernet LAN, 1 x Gigabit Ethernet WAN port, 2 x USB 3.0 ports, 1 x eSATA port
The stealth fighter router, the flagship of Nighthawk X4 Netgear, is one of the most powerful routers at the same time, we can say that this is the best wifi speed 2016 router. Like the Asus RT-AC87U it has 4 antennas, so it supports 1733 Mbit / s using 4 x 4 MIMO 802.11ac technology. This ensures maximum performance. But to use these speeds, you need a compatible wireless adapter.
In addition, this router has support for external drives, there are not only two USB 3.0 ports, but also a port for connecting an ESATA hard drive. Although the software does not look very modern, unlike other routers, there are many useful features. This is a solid network product.
D-Link DIR-890-L Wireless AC3200
Speed : increased to 3200Mbps (600N at 2.4GHz + 1300Mbps + 1300Mbps at 5GHz
Features :
4 x LAN port for LAN
1 x WAN port
2 x USB 3.0 port
Support dd-wrt
The best DIR-890-L wifi router in the form of a six-antenna shuttle is perhaps the best and at the same time a strange router. Six antennas allow simultaneous use of up to three wireless networks, two 5 GHz at 1300 Mbit / s in accordance with the 802.11ac standard and the third with a speed of 600 Mbit, according to the 802.11n standard. They are collected under the same SSID using the SmartConnect function. This allows the router to determine approximately where the connected device is located, and also give it a better speed depending on the distance.
D-Link recently upgraded the programming interface of its routers by adding a more intuitive design and additional features. It can be configured using a mobile application, without the need to log on to the computer. It also supports remote monitoring via mydisk Cloud, as well as media exchange with any storage device.
Apple Airport Extreme
Great solution for Mac OS.
Speed: 1300 Mbit / s 802.11ac, 450 Mbit / s 802.11n
Ports: 3 x LAN Gigabit Ethernet, 1 x Gigabit Ethernet WAN port, 1 x USB 2.0 port
Airport Extreme, the best wifi home router from apple works perfectly with both regular PCs and Macs. But it's best for OS X users thanks to the program for the Mac that comes with it, it's Airport Utulity. Instead of configuring the router through the web interface, you can perform all the settings with this program. on computers with a Mac this works very well.
In addition, the AirPort Extreme good equipment. The latest model of the sixth generation, supports 1300 Mbit / s on the standard 802.11ac, and simultaneous operation of 2.4 GHz and 5.0 GHz antennas for 802.11n / g / b / a.
There are 3 LAN ports, one WAN, and one USB 2.0 port for sharing printer and external storage.
Apple also sells the option with a built-in hard drive, for backing up the necessary machines via wifi ether. Name the model AirPort Time Capsule, it has all the same features as AirPort Extreme? but with the addition of a 2 or 3 terabyte hard drive, you can remotely backup or restore files from your Mac.
---